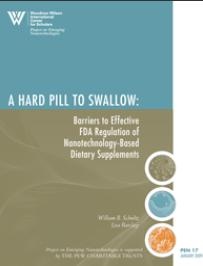 The Project on Emerging Nanotechnologies (PEN), a nanotechnology trade group, has released a report questioning the ability of FDA to regulate the safety of dietary supplements using nanomaterials.  To read the report, click here.
The report, entitled "A Hard Pill To Swallow: Barriers to Effective FDA Regulation of Nanotechnology-Based Dietary Supplements," was authored by two former FDA officials.
The message:
"It is not clear that the supplement industry is conducting the rigorous testing needed either to understand the effects of nanoscale ingredients in its products or to back up the product claims. This means that consumers are potentially exposed to unknown risks that should be balanced with the possible benefits of taking these supplements,"
says David Rejeski, PEN's director.
We have a client at NutriCompliance that markets nanotechnology supplements.  My reaction is that while caution and concern is always wise, in this case it may be misplaced.  Read the report and see if you agree.
Update: CRN appears to agree with me.  In a press release they state that the PEN report sheds no new light on supplements using nanotechnology.