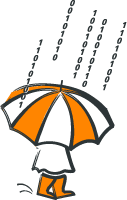 Now that Utah has become the second state after Michigan to put into effect a registry that blocks adult-themed messages from some e-mails and cell phones, other states may follow. The Deseret News reports:
"The Utah Child Protection Registry debuted in July 2005 with the main goal of protecting children by offering a service that would list their e-mail addresses, cell-phone numbers and instant-message IDs on a sort of 'do not call' list. Any businesses that advertised with adult-themed conduct were required to compare the registered contact information with the information they had and remove any matching numbers."
The Free Speech Coalition, a trade association for the adult entertainment industry, challenged the registry in federal court.  However, the coalition filed a motion to dismiss the case after coming to an agreement with Utah's attorneys. U.S. District Judge Clark Waddoups then dismissed the case.  The industry realized it was a battle it just could not win.
Utah's success in federal court could embolden other states to adopt similar measures, using the Utah law as a template and the state's court strategy as a plan for fending off legal challenges. The longer-term effects are unknown, but if states succeed in limiting adult-themed messaging,  legislators may deem other messaging inappropriate for children. States might also create other opt-out choices for all consumers, limiting marketers' efforts.